D    as  Dieter

LII  as 52 in Roman numerals-

           Born in 1952

Project

Painting with Seniors

Senior Day Care Center "Knoepflestadt"

This project is to bring seniors enjoyment

in painting shape and colors.

Creativity doesn't know any age.

In the hours we spend together, we experience together pictures, music,

fragances and stories, which awaken memories of earlier times.

And when paint together we realize that we are busy with

a theme we have not thought about for a long time.

At the first painting meetings in January and February 2019,

we dealt with the topic of spring.

Colorful tulips were painted and we remembered a song

from the 50s: "Tulips from Amsterdam".

Tulip coloring pages painted with colored pencil

The foliage of fresh green deciduous trees was applied with the sponge.

Painting trees with sponge and gouache

In order to protect our clothes from the color, we have made

big blue garbage bags to beautiful overcoats.

A funny moment with the dress of the Haut Couture.

 

Painters with protective clothing

At carnival time colorful masks and princesses were interesting,

which we painted on paper.

Carnival masks for coloring

We made a little video about the first three painting meetings:
Meanwhile it is autumn 2019 and it already has
the thirteenth meeting took place.
We painted autumn motives and even with coffee:
Instant coffee powder and water were mixed in a "cup" of aluminum foil.
All have realized beautiful ideas.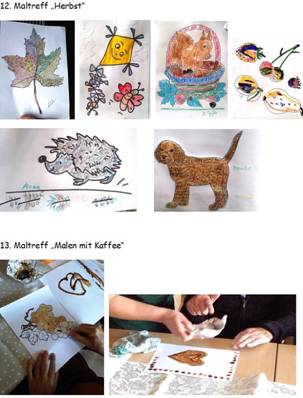 At the end of November we held our painting meeting for the 17th time.
We dealt with an actual topic at every painting meeting: Spring, Carnival,
Birds, Blossoms, Summer holidays, Autumn leaves, Helloween, Christmas time.
But also: abstract painting, painting with a sponge,
Cardboard column with colored buttons,
painting with coffee and much more.
We often began the painting meetings with finger and arm movement
exercises to relax, listened to music from the 70s
and newer music and sang along,
from time to time we also used fragrances and
ourselves reminiscent of our rose garden and other
or the enjoyed good smell of coffee.
We heard a lot of stories about walking in the forest, the twittering
of birds, warming sun rays, the view of the river Rhine Valley
and spiritually participated in the projects of the painter Dieter
with his Art videos or the reproduction of a reading girl by Franz Eybl.
My wife and I spent many hours with the seniors
and we all had our joy and variety.
Now it's time to enjoy the Christmas season and
prepare yourself for the New Year 2020.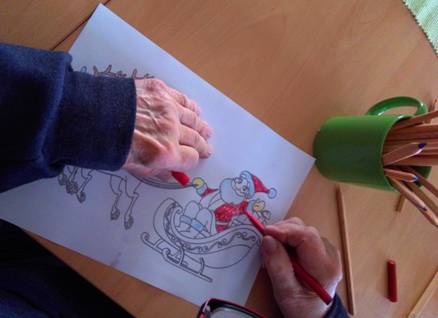 We are now taking a break from the project
and thank the seniors for their interest in the painting meetings.
My wife and me have summarized our experiences with the artistic care
of the elderly in a small book called Buntstifte gegen Alltagsgrau